Interface: NYSTA Maintenance and Construction Center Personnel - NYSDOT Region 8 HVTMC Transportation Management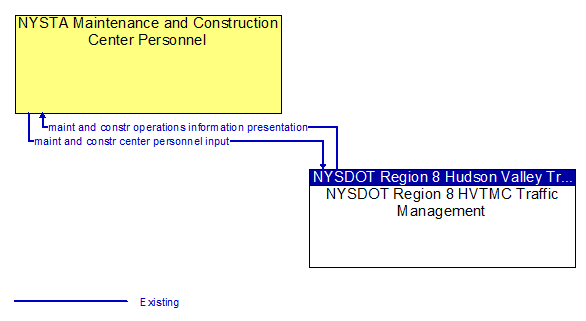 Information Flow Definitions
maint and constr center personnel input (Existing)
User input from maintenance and construction center personnel including routing information, scheduling data, dispatch instructions, device configuration and control, resource allocations, alerts, incident and emergency response plan coordination.
maint and constr operations information presentation (Existing)
Presentation of maintenance and construction operations information to center personnel. This information includes maintenance resource status (vehicles, equipment, and personnel), work schedule information, work status, road and weather conditions, traffic information, incident information and associated resource requests, security alerts, emergency response plans and a range of other information that supports efficient maintenance and construction operations and planning.