Interface: City of White Plains TDP Traffic Management - City of White Plains TDP Traffic Management Signal Engineer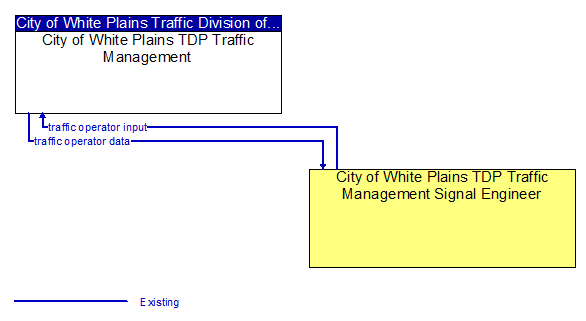 Architecture Flow Definitions
traffic operator data (Existing)
Presentation of traffic operations data to the operator including traffic conditions, current operating status of field equipment, maintenance activity status, incident status, video images, security alerts, emergency response plan updates and other information. This data keeps the operator appraised of current road network status, provides feedback to the operator as traffic control actions are implemented, provides transportation security inputs, and supports review of historical data and preparation for future traffic operations activities.
traffic operator input (Existing)
User input from traffic operations personnel including requests for information, configuration changes, commands to adjust current traffic control strategies (e.g., adjust signal timing plans, change DMS messages), and other traffic operations data entry.